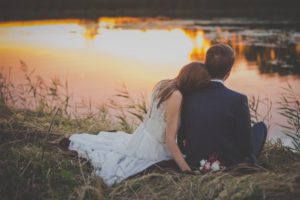 5 Things Newlyweds Can Teach Us
These days our alarm goes off around 6:00 a.m. We rush around to get everyone up and dressed, fed, teeth brushed, lunches packed, and race out the door to get to school. We go in different directions, send texts midday to coordinate after school schedules. We eat a quick bite for dinner in the car on the way to the ballfield, push the kids through the bedtime routine, and then fall into bed exhausted around 8:30 p.m. It's no wonder we only have enough energy left to binge-watch something as we fall asleep. Rewind 24 years and our newlywed selves would be mortified. 
Ah! Newlyweds! We had it all figured out back then. As 21 and 23 years olds, we were invited to lead worship at a marriage conference in Daniel's hometown. We got to sit through all of the teachings with the other married couples and came to a conclusion. "We are so much happier than all these old married folks! Maybe WE should be leading these seminars! If they could just remember what it was like to be newly married, maybe they wouldn't need to go to a marriage conference!" Bless our optimistic little hearts! 
It's laughable all these years later that we thought we had any wisdom to share after six months of marriage. However, maybe we could all learn a thing or two from our newlywed selves if we were willing to listen. We know there are many more, but here are five things we can learn from newlyweds that might serve us well in our marriages today.
1. Newlyweds talk all the time. Do you remember what it was like to sit up into the morning's wee hours talking about everything and nothing? As time goes on, we think we know everything there is to know about our spouse. We stop sharing the heart issues that initially bound us together and rely on minimal calendar synching to keep us connected. What if we could make a little time every day or plan a block of time weekly to discover something that is on our spouse's heart? Newlyweds do this incredibly well.
2- Newlyweds spend a lot of time together and know how to have fun. During our first year or two of marriage, everything was fresh and fun! A month before the wedding, I remember being so frustrated and thinking, "I can't wait until I never have to leave, and we can stay together all night!" No matter what we found to do together, it turned into an adventure, and we absolutely hated to be apart. Isn't that why we got married in the first place? Too often, we let jobs, children, and responsibilities sap life and energy out of us to the point we have no time left to enjoy our spouse. We might rekindle some of that newlywed spark if we were more intentional about making time to have fun again with our spouse. 
3. Newlyweds put each other first. In those early days, we were terrible about staying connected with friends. It was easy to say "no" when we were so obsessed with each other. Though we shouldn't completely disconnect from the people in our lives, we would do well to remember that God has called us to leave our father and mother and hold fast to our spouse because the two shall become one flesh (paraphrased from Genesis 2:24). Those early years should have taught us to make decisions as a unit and choose our spouse above our parents, friends, and even our children. God designed us to put our spouse first. It's easy to do that initially, but takes choice and intentionality the longer we are married.
4. Newlyweds can't keep their hands off of each other! Remember those days when a glance made your heart flutter, and you left events early so you could get home and kiss on the couch? Newlyweds are passionate about touching and kissing and having great sex. God designed husbands and wives to physically enjoy each other and emotionally connect through sex. God thought it was so vital that He inspired Paul to write 1 Corinthians 7:5. It says, "do not deprive one another, except perhaps by agreement for a limited time that you may devote yourselves to prayer; but then come together again, so that Satan may not tempt you because of your lack of self-control." It may not sound sexy, but sometimes we just need to schedule some time to get physical!
5. Newlyweds dream about the future together. Whether it's about homes, jobs, children, or vacations, newlyweds imagine all the possibilities that lie ahead of them. There's something so exciting about all the "what if…" and "won't it be great when…" conversations that consume you and your spouse in the early days. It doesn't have to be a big goal or dream, but looking forward to something that gives you common ground keeps your hearts tied together. As long as you are hoping and dreaming of a future together, you probably have one. 
After twenty-four years of marriage, eight years of a traveling music ministry, then seventeen years at a church, the birth a marriage ministry, four houses, five years of infertility, the unexpected loss of a parent, the addition of two kids, and so many other seasons of life, there's very little "newly" left in the "wed." Don't get us wrong! Marriage is far better in so many ways now. There are so many things we would love to go back and tell our twenty-one and twenty-three-year-old selves that would make the first few years of marriage easier. However, if we are willing to set aside our pride and think twice about the "you just wait" advice we're so quick to give to newlyweds, we might learn a thing or two from them. We can rekindle the fire that burned at the beginning of our Marriage Adventure!
Enjoying the Adventure,
Daniel & Bonnie