Beyond Expectations
By Bonnie Hoover
Typically I wouldn't say I like surprises. You see, I'm a planner and don't enjoy things being sprung on me at the last minute. However, I have come to love birthday surprises when my hubby is planning them! Daniel is the king of planning and keeping fun secrets on special occasions or holidays. His motto is it's not lying if it's for a surprise!

With my birthday falling at the end of January, Daniel started asking what I wanted the minute we finished cleaning up wrapping paper on Christmas morning. I can understand his questioning since I'm tough to buy for. My first request was to get our Zero Turn mower fixed. It's been sputtering a bit, and I love cutting grass, even if it doesn't need it. He rolled his eyes and said, "that's NOT a gift. And it's already in the shop." 
I thought for a few days and made my second request. "I'd really love for you to get me the materials and the soil to make a raised bed garden in the yard." You can guess how that one went over. More eye-rolling, sighing, and scolding from Daniel along with, "I CAN NOT tell anybody I gave you something else to work on for your birthday." 
Since I apparently had to think of another gift idea that wouldn't be cause for "man-shaming" at the office, I finally asked for what I do every year and genuinely want more than anything else always. I asked Daniel to take me away for a night somewhere close, like Chattanooga. Big smile. That satisfied my romantic husband, as he started looking for a place to whisk me away!
On the morning of my birthday, I was so excited about the trip just an hour up the road. Since we've been there before, I imagined we would walk around the downtown streets, maybe near the river. We'd walk to a nearby restaurant, then catch a movie, and drive to the quaint coffee house I loved from our previous visit. I had everything ready for our trip to Chattanooga. My bag was packed with warm clothes and walking shoes, and I was ready to go! 
Daniel plugged in the address to his phone GPS and pulled out of the driveway. But what happened next didn't follow the script I imagined. Instead of following the directions to turn left of our drive, he turned right and pulled into our lower driveway down by the barn. He pulled up to the tiny guest room we had been working on since summer and parked the car. Imagine my shock when he said, "we're here!" He opened the door and revealed my birthday surprise. He had been secretly working on getting our little cabin ready for us to stay in for the weekend. It was amazing… and not at all what I expected!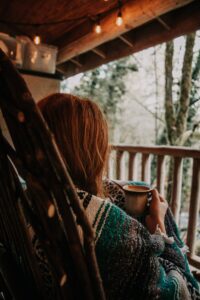 Daniel far exceeded my desires for my birthday getaway! What I expected and anticipated had all been built off our past trips because it's the only frame of reference I had. When couples start out as newlyweds, they usually have visions of what their relationship will be like. Maybe it was based on fantasy from the "happily ever after" movies they lost themselves in. Perhaps it was based on the marriage they grew up watching modeled in their home, or even on a hope that their marriage would somehow be different. Whatever the desires that are held up as ideal, most couples head starry-eyed into their wedding day with specific hopes and dreams. 
But, what happens when we have high expectations for our marriage and our spouse falls short? Don't get me wrong, some things are fair to expect without explicitly expressing them, like faithfulness, kindness, friendship, and having each others' back. That's marriage.
So, what are we talking about here? We're talking about things you desire your spouse will do or be that maybe you haven't even communicated. Often, we assume that our spouse will meet particular desires or wishes that will make our life easier or happier. Expectations come in just about any area: how our spouse dresses, eating habits, spending, hobbies, how they will parent children, intimacy issues, cleanliness around the house, chore assignments. The list is endless when you are living with someone!
But what's important is to note the difference between desires and expectations. Desires are the things we would like to have or wish were true of the relationship. Maybe we would like for our husband to assume the responsibility of taking the trash to the street every week. That would make sense if it was your dad's chore growing up since it's all you knew. And it's not a bad thing to hope for. But it can become burdensome to your spouse when your desire turns into an expectation, especially if it's never been voiced as a request. 
An expectation says, "you must fulfill my desire." Then it becomes a demand. Demands elevate yourself above your spouse, almost in a taskmaster role, which was never intended for the marriage relationship. Philippians 2:3-4 says, Do nothing out of selfish ambition or vain conceit. Rather, in humility, value others above yourselves, not looking to your own interests but each of you to the interests of the others. 
What if we were less concerned with having our spouse fulfill our desires and more concerned with finding out how to look out for their interests? What if we took time to express our hearts and ask for the things we desire without expecting our spouse to fulfill them? Sometimes we fail to ask our spouse for what we want yet hold them accountable for failing us. It's a no-win situation for our spouse or the marriage when we do that. 
Our marriage is far from perfect, and I'm sure we get it wrong more often than we get it right. But, Daniel's line of birthday questioning led him to understand what would make me happy on my special day. He asked. I told him what I desired, and his heart was to far exceed my wishes. And you know what? He didn't just take me away to a cabin for the night. He gave me one I get to keep! That's way better than any expectation I could have had. 
Fulfilling someone's desire is much more exciting than trying to jump over the bar of their expectation. When you express desire rather than expectation, you never know when what you get turns out to be far better than what you thought you wanted. On a side note, Daniel still got my mower fixed AND purchased the raised garden beds! I guess I need to get busy putting them together. It's time to start planting potatoes!
Enjoying the Adventure,
Daniel & Bonnie