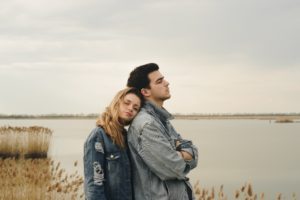 I (Daniel) started playing football when I was little.  Well…at that point in my life I wasn't exactly little.  Little Debbie was one of my best friends!  I loved the game and was a natural fit for playing the position of Center since I weighed close to 200 pounds in eighth grade. However, when I moved up to High School, I started losing heart for playing. The problem was, I was committed to my team and didn't want to let them down. I perceived pressure that didn't really exist from my Dad and older brothers and felt almost locked into the athletic path I was on. One time I actually told a buddy that I could never quit and would have to get hurt to get out of playing.
At the time, I didn't realize that what was tying me to the team was my sense of CONSTRAINT commitment. This can also exist in marriages. Weighing the costs of getting out of the relationship and choosing to stay can actually be positive at some points of the journey because it puts short-term circumstances into perspective. But it takes more than that to thrive in marriage. Long term satisfaction and success requires a deeper level of commitment that looks more like DEDICATION. Dedication is a devotion to each other, to make good choices for "us." It says, "I'm here and all in, and my priorities are aligned for the good of us."
At some point in the marriage relationship, we have to shift from a "me" to a "we" mentality that prioritizes what's best for both of us over what we individually desire. We determine together how we are going to spend our time and resources, which fosters a sense of safety between us. Knowing you are committed to "us" makes me feel secure in the relationship. This draws me deeper into devotion, rather than feeling constrained by a commitment I've made.
Having a strong sense of commitment is admirable. It may be what's needed during seasons of marriage when our feelings might otherwise drive us apart. But, over the long-haul, if you aren't fully devoted to your spouse and you are in the process of weighing out the costs of staying or going, it might be time to make a phone call to a trusted pastor or friend to seek out godly counsel.
"Be devoted to one another in love. Honor one another above yourselves." -Romans 12:10
Enjoying the Adventure,
Daniel & Bonnie