FLAT BRAINS & HARD HEARTS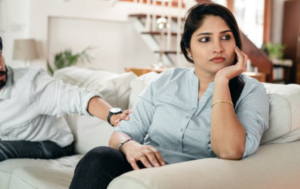 I'm sure everything is great at your house. But at ours, emotions have been running a bit hot lately. After months and months of close-quarter living with the same people, one little comment or action can take our emotions from zero to sixty in a matter of seconds. Walking through our living room and finding cut up cardboard "artwork" everywhere can feel like a gut punch, which leads to volume issues in my (Bonnie's) conversation with the kids. Or Daniel can make a completely innocent comment about the chicken tasting "different" that ignites a passionate defense about why the overly crisp dinner was somehow his fault. But, I'm sure nothing like that ever happens at your house!
So, why do we tend to immediately retaliate when we feel that pit in our stomach that felt like a grenade went off inside? It's scientific, actually. We are all wired to be self-protective with something called the "fight or flight" response. The fight-or-flight syndrome (also called hyperarousal or the acute stress response) is a physiological reaction that occurs in response to a perceived harmful event, attack, or threat to survival. That's why we either run away or fight back when we think we're about to be mugged. This can be a great thing when we're in danger. But, in marriage, it can become hazardous to the relationship.
When Daniel worked on his master's degree, he was introduced to James Peterson's book, Why Don't We Listen Better? Communicating & Connecting in Relationships. Peterson had a unique way of explaining what happens to us in relational conflict. Everything is fine one minute, then the next, we are set off, and our emotions take over, making us "flat-brained." Going flat-brained means we feel that "thud" in our stomach, which is the seat of our emotions. Those emotions expand like rice in boiling water. They then move up to our heart, which keeps us from being able to empathize. The pressure continues to rise up to the point that it flattens our brain against the top of our skull, rendering the rational thinking portion of our brain completely useless! At that point, we can't think, hear, or see straight and give way to whatever words or actions our emotions dictate. Our hearts become so hardened toward our spouse that we no longer empathize with them and perceive them as our enemy.
Robert Bolten explains it this way in his book, People Skills. "Emotional arousal actually makes us different people than who we are in moments of greater calmness. When we are angry or fearful, our adrenaline flows faster, and our strength increases by about 20%. The blood supply to the problem-slowing part of the brain is severely decreased because, under stress, a greater portion of blood is diverted to the body's extremities."
If you're honest, you know exactly what that "thud" feels like and how out of control you can feel when your emotions move into the driver's seat. The problem is, although our emotions are real, they aren't always truthful. In the heat of the moment, we have a difficult time perceiving what is true. We don't have an information problem. We have a discerning problem. Truth and emotions are too entangled to tell them apart. Emotions lie to us and cut off our ability to think clearly. When Daniel said that the chicken tasted "different," I didn't listen long enough to let him explain that he actually liked the new recipe. My feelings instantly went to the worst place, and I felt offended, which led to my snapping at him, which flattened his brain and began our flat-brained battle.
So, now that we know this is a problem, what can we do about it? First, we can learn to recognize the "thud." You know it. It's that feeling deep in your stomach that feels like you're tied up in knots. How you respond in this moment either starts the familiar dance or stops it in its tracks. You have to recognize that your spouse is flat-brained and isn't thinking clearly. To deviate from the tango, you have to be able to shift your goal from winning to understanding. The best way to do this is by capturing the quarter-second between the time you receive the "thud" that tells your brain to go crazy and stretch it out to several seconds before you respond.
Capturing the quarter-second will allow your emotions to rewire to the rational, decision-making portion of your brain long enough to decode the intended message. You have to be adult enough to press "pause" and attempt to decipher what they are actually trying to communicate. Find out what they were really trying to convey. Again, the goal is understanding, not retaliation. Too often, our "fight or flight" mechanism kicks in when we feel threatened, and we return "enemy" fire without a pause.
After you recognize the "thud" and capture the quarter-second long enough to decode what your spouse means, you must weigh your words carefully and take ownership of your response. What you say next will either de-escalate the situation or throw fuel on the fire. Proverbs 15:1 & 18 explains it this way. "A gentle answer turns away wrath, but a harsh word stirs up anger… A hot-tempered man stirs up strife, but the slow to anger calms a dispute."
We have to remember that our spouse is not our enemy. We want to help pull them out of their flat-brained state and understand what they need. You can help them de-escalate by acknowledging their concern and ask them a question about what they are upset about. The best way to resolve an argument with a hyper-emotional person is by staying calm and attempting to empathize.
I'm not going to lie. Learning to put our emotions in check is not easy. It takes a lot of practice! Recognizing the "thud" is one thing. But, actually pausing long enough to see through something that hurt us and respond rationally is an entirely different discipline altogether. All we can say is we are so thankful that God promises, "My grace is sufficient for you, for power is perfected in weakness" (2 Corinthians 12:9). Our prayer for you this week is the same that it is for us. "Lord, please don't let my flat brain turn into a hard heart!"
Learning from the Adventure,
Daniel & Bonnie