I (Bonnie) am writing this post from my living room with two elementary-aged- children interrupting every five minutes. That can only mean one thing. Quarantine. Even though we are trying to get dressed and follow a schedule, the days seem to run together. One day we are doing well, checking all the boxes and embracing the challenge of living and loving from home. The next day, one of us (most likely me) is locked in the bedroom in PJs with the blinds shut, trying to block out the needs of the people who keep banging on the door. Yep. We're all in the same boat and navigating uncharted waters.
Although we are confined to our 2000 square feet of home, that doesn't mean we are actually interacting with each other in meaningful ways. So how do you stay connected with your spouse when you also have a house filled with other little people or feel "stuck" at home with only your spouse all day? If we're going to walk out of this pandemic better on the other side, we believe it's essential to connect with our spouse on three levels every day.

EMOTIONAL CONNECTION
Let's be honest. Riding the tide of emotions over the past couple of months has been exhausting. It's difficult enough to manage our own feelings through this, but it's also important to check in with our spouse to see if they are okay. If your communication is typically healthy, it may be enough to simply ask, "On a scale of one to ten, how are you today?" Or, maybe you need to get a little fancier and come up with a code for "I'm okay/I'm NOT okay." Not having showered in three days screams, "NOT OKAY!" While wearing make-up or shaving indicates, "Sunshine is in my forecast ."  
Whatever means you use to decode your spouse's emotional state, just use it. If you get a "NOT okay" sign, the next step is to ask a simple question. "How can I help?" Or, "What do you most need from me?" It's easy to go in an emotional hole when life's new "normal" is less than desirable. Since we are most likely the only support system, our spouse has right now, finding ways to check in and lift each other up can bring us closer. Few things unify a couple like a crisis. 
PHYSICAL CONNECTION
This one appears to be easy since we are stranded on a proverbial desert island with each other. But, many of us are also marooned with children and jobs. At one time, leaving work at work and home life at home was a possibility. Not this week… not even this month! Now, more than ever, we are having to be diligent about closing down work by shutting a door to our workspace and being intentional about the time we are together.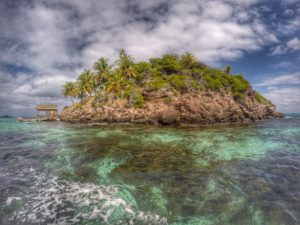 Whether it's spooning on the couch during a TV show, holding hands on a family walk through the neighborhood, or making time for a long kiss in the middle of the day, we cannot neglect the power of physical touch. It's incredible the stress that's released when Daniel walks in the kitchen and wraps his arms around me for twenty seconds. Everything in my world feels a bit shaky right now. I need the security of physical connection with my spouse, and my children need to see it. 
SPIRITUAL CONNECTION
I don't know about you, but over the past few weeks, I have been able to relate to Psalm 42:11 on more than one occasion. "Why are you downcast, O my soul, and why are you in turmoil within me?" During my melancholy days, diving into Scripture and God's promises has lifted me out of my personal pit. As individualized as our relationships are with the Lord, nothing seems to bind our hearts together more than sharing our faith walk with each other. 
Connecting spiritually with our spouse doesn't necessarily mean we are praying and studying God's word together. Growing together may be as simple as sharing something that the Lord impressed on us, or an encouraging verse we read that day. Just talking about the Lord helps keep us focused on something bigger than ourselves. And it reminds us that no matter our circumstances or differences, we have the same Hope. 
Since Daniel is on church staff, we rarely have the opportunity to sit in a service together on Sunday mornings. This quarantine has offered our family the gift of being able to watch our church's weekly service and worship in our living room as a family. What a great way to maintain a spiritual connection at a time when we really need it! 
When this quarantine is over, and one day it will be, the two of us will have drifted apart or maintained a heart connection with each other that's better than ever? Due to circumstances out of our control, there's really no place to run or hide from our spouse. If we can check in on some level every day, there's a chance we could look back on a crazy pandemic as a time that strengthened our relationship like no other. 
Enjoying the Adventure,
Daniel & Bonnie