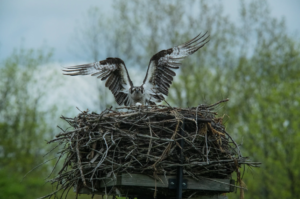 When we started out on this Marriage Adventure, as twenty-three and twenty-one-year-old college students, it was just the two of us. We were ready to take on the world and enjoy the journey together. The Lord had plans for us to remain a family of two for the first thirteen years of our marriage. During that season, we can vividly remember people asking us, "So, when are you going to start a family?" Our reply was always the same, "We already are a family. God just hasn't put a  desire in our hearts to bring children into it, yet."  
Somewhere along the way, many of us have adopted the idea that "starting a family" means having children. In Genesis 2:24, we read of the marriage between the first man and woman. "Therefore, a man shall leave his father and his mother and hold fast to his wife, and they shall become one flesh." It's always struck us a little funny that there were only two people on the planet when God said that a man would "leave his father and mother." Did Adam and Eve look at each other in confusion and say, "what's a mother and father?" We'll probably never know the answer to that. But two things resonate with us from that passage. One, when a man and woman get married, they become their own, new family… before they have children. And two, when they bring children into that family, God intends for the children to one day leave, keeping the original family of two intact.
"Somewhere between dance recitals, ball games, and school functions, we just lost sight of each other." You can interchange "ball games" and "dance recitals" with a hundred different children's activities, and that's pretty much what we hear from couples regularly. They began their marriage in love with each other and fully intended to stay that way. But life got busy. Without realizing it, the chaotic lifestyle they created around their children and activities built a wall between them, one brick and school-event at a time. Now that their children are gone, they barely know each other. 
We were so encouraged when we recently spoke with our pastor and his wife, Mike and Anne Linch. They have successfully parented and launched two godly young adults into ministry careers. On a recent podcast interview, they shared some of the secrets to why they are so happy on this side of the empty nest. Through their parenting season of "divide and conquer," they always found a way to come back together. They said they were intentional about three things. 
They always had dinner together to keep the family close.

The two of them always went to bed at the same time every night so they could stay connected as a couple.

They learned to enjoy the same things and spent intentional time together. 
Mike said, "If you stop talking, the marriage will break down. If you keep talking, you will probably make it. We try to win every day." They realized that, in comparison to their life-long marriage relationship, the years of parenting would be short. As intentional as there were about pouring into their children, they didn't forsake making time for each other. They knew that the stronger and better their marriage was, the better parents they would be. A healthy marriage is one of the greatest gifts parents can give their children. 
Stewarding the life of a child can be such a rewarding part of the Marriage Adventure if that's part of God's plan for us. But, we have to keep in mind that God has merely entrusted us with these little treasures for 1/4th of our marriage. They aren't really ours. They belong to him. We have the privilege of loving them, pouring Jesus and life skills into them, and showing them what a great marriage looks like while they are with us. We work so hard to keep them close, then we are required to do the unthinkable. We let them go. Then they get their chance to "leave their father and mother…" 
When that day comes, will we still be "holding fast" to each other like we were before our children came into our lives? That's entirely up to us and the investments we make in each other leading up to life after the empty nest.
Enjoying the Adventure,
Daniel & Bonnie