Rekindle the Romance
By Bonnie Hoover
I've never been much of a fan of Valentine's Day. No, really. When I (Bonnie) was in college, I spent a little time working in a flower shop. February 10th-14th was usually crazy! But oddly enough, besides Mother's Day, the rest of the year was just average. I rarely took the phone order from a husband to send flowers "just because." Why? Is romance dead the other 364 days of the year?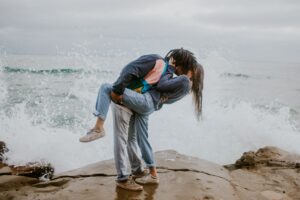 When we got married, I took it upon myself to explain to my romantic husband that I did appreciate his gestures every other day of the year! I just didn't want him to bring me flowers because a declared love holiday mandated it or because it was a day to make up for lack of romance the rest of the year. I much preferred both sweet gestures, both small and grand, from the heart. And I still do! 
But maybe a holiday that celebrates romance isn't so bad after all. In the early days of marriage, the sappy stuff seems to flow easily. We have to exercise restraint to keep from flirting and touching and making everyone around us feel uncomfortable with our chemistry. Then we become more familiar with each other and settle into the comfortable groove of life together. Then the mortgage, car, and utility payments come due every single month. The job demands a few more hours a week. Along comes baby number one, then two, then oh goodness! Who has time for romance?
It may not come as naturally as it did initially, and we definitely don't have as much time and energy to devote to it as we once did. But, romance is an essential part of any love relationship. My mom once told me that couples who stay together will spend a lifetime of falling in and out of love with the same person over and over. How true! 
We won't be able to sustain the euphoria of love every day. But we sure can be intentional about rekindling the spark in our marriage. Daniel learned how to build fires in his years as a Boy Scout before getting his Eagle. If a fire ever burns down to coals, the key to getting it blazing isn't throwing big logs on it. You throw small kindling on it and build it back up again. 
The same is true for the spark in your marriage. Every day we have to make small gestures that say, "I still want you. I'm still attracted to you. I still have eyes for only you!" Maybe you flirt over a cup of coffee in the morning or drop in at work for an impromptu lunch. A note on the bathroom mirror, a sweet text, or a single daisy left in the driver's seat of your spouse's car could all be the kindling that leads to stolen kisses between dropping the kids off for baseball, cuddling in the morning, and weekend getaways.
Every day won't be Valentine's Day, nor should it. But we can take small opportunities to stoke the fire of romance and remember why we fell in love in the first place. It sure makes the Adventure a lot more fun!
Song of Solomon 2:16, NLT My lover is mine, and I am his.