Spring is Coming!
By Bonnie Hoover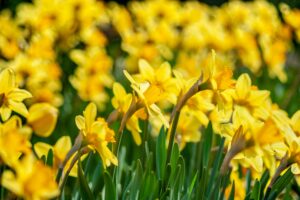 Cold, rainy winter days feel like a wet blanket on my soul, and it's been raining where we are for three months straight. Seattle folks might scoff at the plight of this south Georgia girl, but the dreariness is real. Two weeks ago, for the first time in a while, a long while, the sun peeked out and draped itself across our back pasture. Though it was chilly, with the sun beaming on my face, the walk to the pond was exhilarating. Then, about halfway down the hill, I saw them…bright yellow daffodils! Springing from the ground was the promise that spring was surely coming!
Most marriages are marked by the winding road through changing seasons. We walk through a season of engagement and wedding planning, then the newlywed stage. There will be seasons of transition from one job to the next and moves from one home or city to another. Parenting brings one challenge and change after another as we learn to adjust to each new leg of the journey. And, if we're married long enough, we'll hold each other's hand through our parents' aging and comfort each other through loss. How we navigate different seasons as a couple can make or break our adventure.
Just before our first night of freezing temperatures in November, Daniel went around the outside of the house and wrapped our faucets, and we left the pipes dripping overnight. I ensured we had plenty of propane in the tank for our fireplace and pulled the heavy winter clothes down from the attic. We talked about the new season and made the necessary adjustments that would carry us through it as a family. Often, recognizing we're in a new marriage season and finding productive ways to adjust our lives can help us maneuver it more gracefully. Knowing it's a season that won't last forever allows us to have patience and empathy with each other when a particular stage of life is more challenging for one of us than the other.
Being mindful of a season and encouraging each other through them can strengthen our relationship and forge intimacy if we are willing to lean into each other rather than pull away. Even the harshness of winter can be sweet if we have a warm fire to cuddle up next to. How are you and your spouse experiencing this particular season of life? Remember that a season is just that. It doesn't last forever. If you're currently experiencing a dark winter, hang on. Encourage each other today with the hope of the promise that spring is just around the corner!
There is a time for everything,
and a season for every activity under the heavens:
a time to be born and a time to die,
a time to plant and a time to uproot,
a time to kill and a time to heal,
a time to tear down and a time to build,
a time to weep and a time to laugh,
a time to mourn and a time to dance,
a time to scatter stones and a time to gather them,
a time to embrace and a time to refrain from embracing,
a time to search and a time to give up,
a time to keep and a time to throw away,
a time to tear and a time to mend,
a time to be silent and a time to speak,
a time to love and a time to hate,
a time for war and a time for peace.