This is Love
By Bonnie Hoover
"I never knew what real love was until I looked in the face of my newborn baby."
Have you ever heard someone say this about their child? Maybe you've said it yourself. What a funny thing to say about a person who has barely drawn air for a full minute. That precious crying baby can't really offer us anything in return for our unconditional, undying, complete love and devotion. I mean, it's almost a year before they can say our name. They scream at us off and on all day and night, demanding food, changing, and snuggles.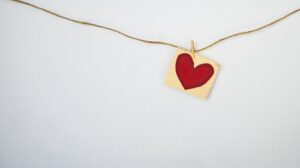 When they get older, it's not much better. As soon as that bundle of joy becomes capable of self-care, they pull away, chasing their own desires and independence from us. But still, we love. Even when they are unlovable, we offer our hearts to them. We drive them anywhere and everywhere, helping them chase their dreams. We serve them without appreciation. We press pause on everything to become their cheerleader. We give all our time to help them live their best lives. We sacrifice time, resources, and sleep to serve these little people. When they pull away, we press in, all to pursue their hearts. This, my friends, is real love.
How can this be? We expect very little in return from this child….ever. Even when unreciprocated, our love is unconditional, and it's proactive and sacrificial. We know what love is, and we choose it daily when parenting. But, here's the real question, do we choose to love our spouse with this same kind of love?
This is how God showed his love among us: He sent his one and only Son into the world that we might live through him. This is love: not that we loved God, but that he loved us and sent his Son as an atoning sacrifice for our sins. Dear friends, since God so loved us, we also ought to love one another. -1 John 4:9-11.
God showed us what love looked like when He sent Jesus to earth as a sacrifice to bring us into a relationship with Him. We weren't looking for Him, didn't love Him, and certainly had nothing to give in return. Still, He chased us, laying down His life to prove His love, and never gave up on us. We willingly receive this unmerited favor and lavish love from our Heavenly Father. Dear friends, since God so loved us, we also ought to love one another. Vs. 11.
Am I more willing to sacrifice my time and energy for my children, my work, the church, or someone else, than my spouse? I would take a bullet for my spouse, but will I sacrifice for him in the little things? Will I go ten minutes out of my way to pick up one of the kids because it saves him time? Will I empty the dishwasher, so he doesn't have to? Will I get up in the middle of the night and go check on our child when she is crying so he can get some rest or just pretend I'm asleep? Will I give him a few minutes to breathe when he gets home from work before dumping the kids on him? Or will I jump in and help with the kids even though I've had a hard day at work?
Will I give him the grace to be gone for days to take care of his aging parent? Will I let him pick the movie or restaurant even though it isn't my favorite? Am I willing to give up a hobby I enjoy to make time for something we can do together? Am I prepared to keep my "yes" on the table when he desires sex, and I'm not in the mood? Can I give up my right to be right and compromise when we argue? Am I willing to go to counseling to work out our resolved issues? Will I grow old with him and take care of him when he doesn't remember my name?
Real love is making time to work on our friendship and staying emotionally vulnerable and sexually available to our spouse even if they aren't pursuing us. It's not popular. It takes work, energy, and intentionality. And it sure isn't easy! But what could it do for your relationship if you both loved each other with the unconditional, unrelenting, sacrificial, undeserved, miraculous love of God?
"Greater love has no one than this, that someone lay down his life for his friends." -John 15:13