Tricky Transition
by Bonnie Hoover
"I don't feel like I'm losing a daughter but gaining a son." We often hear this lovely sentiment from the bride's parents as they speak fondly of their future son-in-law. With all the excitement and joy surrounding an upcoming wedding, knowing your new spouse will fit in with your family is a comfort. As sweet as this thought might be to newlyweds, is joining your two families a Biblical concept?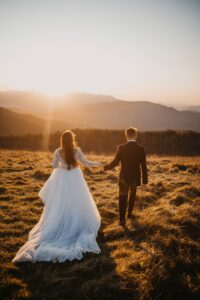 Why is it so tricky for a newly married couple to leave their families and cleave to their spouse? And what in the world does "cleave" mean anyway? Cleaving is an old-fashioned word that means to cling to, stick to, adhere or remain faithful to. Some of us find the transition from child to spouse more complicated than anticipated. After all, we've had parents or guardians since birth. But now, we are expected to forsake them and all others to marry someone entirely different from ourselves. And maybe our families are nothing alike. Now we're supposed to merge our two contrasting worlds? Actually, no.
It might surprise you that God's design for marriage is not about combining two families. Instead, it's about leaving two and creating an entirely new one. In Genesis, we read of the first marriage ceremony, officiated by a loving God. Adam was alone in a great big perfect world, and God's solution for his loneliness was to create a woman, Eve. When God presented man with his new bride, he replied in delight! "This is now bone of my bones and flesh of my flesh; she shall be called 'woman,' for she was taken out of man" (Genesis 2:23). The next verse tells us, That is why a man leaves his father and mother and is united to his wife, and they become one flesh. What an odd statement to make when Adam didn't even have parents! This declaration was undoubtedly a prescription for future couples who needed permission to leave and a reminder to hold fast to our new spouse.
So, how do we graciously leave our family of origin and create a new family with our husband or wife? 
1. Become emotionally and financially independent. This means we are funding our lives and not depending on our parents to bail us out. While our parents still support us, don't be surprised if they expect to influence our decision-making. Ephesians 6:1-2 gives them this authority. Children, obey your parents in the Lord, for this is right. Honor your father and mother (which is the first commandment with a promise) so that it may turn out well for you and that you may live long on the earth. 
There's a difference between rendering obedience and honor. We obey as long as we're still under our parents' roof. When we become independent, we honor them, respecting and including them. Maybe we seek their counsel, but we are not bound to take it. 
2. Choose your spouse over your family of origin. Our new loyalty lies with the one we stood before friends and family on our wedding day and declared we are choosing over everyone else in the world for the rest of our lives. When making any and all decisions, we consult and put our spouse ahead of all others, including our parents. This is emotional independence. We establish a new relationship with our parents, giving our spouse the highest priority.
It may be a more difficult transition out of some families than others, and some parents may not make this easy. In that case, we still have a Biblical mandate to kindly assert and implement boundaries with our parents that value and protect our spouse.
3. Don't pull family into your marital conflict. When I was newly married, Mama gave me some wise advice. She said, "don't tell me about fights with your husband because you'll get over it. But, you're my baby, and I'll probably hold a grudge!" You wanna make Thanksgiving and Christmas awkward? Just tell your momma all the dirt on your husband or wife!
It's a far better idea to find a Godly friend to vent to if we're going through a difficult time at home. We all need someone who can help us find perspective when we're too close to a situation to see our faults in an argument. A Godly friend won't jump on a spouse-bashing wagon but will encourage us to diffuse arguments by helping us examine our hearts. A parent or family member will most likely take our side, hand us more ammunition, and give us all the reasons they never liked our spouse in the first place. Protect each other and solve marital issues without involving parents if at all possible.
4. Don't expect your spouse to handle conflict with your family. Learning to set boundaries with family takes time. Undoubtedly, well-meaning parents will interject their opinions or place demands on us that will cause conflict in our marriage relationship. When this happens, it's our responsibility to present a united front and address the situation with our own families. It's not fair to ask our spouse to get in the middle of a conflict with our family unless we feel powerless to stand up for ourselves and need our spouse to protect us by intervening on our behalf. It's best to handle conflicts with your family and your spouse to handle theirs. If their family has offended you, it's also a good idea to express your concern to your spouse and let them convey it to their family, and vice versa. Remember, always choose your spouse!
"Becoming one" with a new husband or wife takes time, patience, and a lot of grace. Work together to set boundaries with both families and always put each other first! Don't be surprised if challenging conflicts arise while learning to leave your family and create a new one. Keep in mind that you've never been married to each other before! That's why it's an Adventure! 
For more on this topic, listen to our podcast, EP//78: Marriage 101, Leave & Cleave.