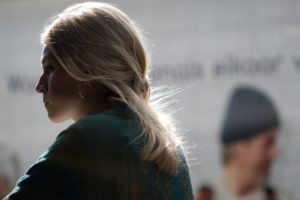 When we were dating and getting to know each other, we thought we were just alike. We both loved Jesus, our families, and the outdoors. We had similar dreams for the future and for what we were looking for in a spouse. So, after a week of spending every spare moment together that we weren't in college classes, we decided we must be perfect for each other!
Fast Forward six months to a year in our marriage, and we had a reality check! We shared a lot of common interests, but we are NOTHING alike! Our personalities and hardwiring are not only different but often on opposite ends of the spectrum. Several painting projects helped us gain some perspective on why we couldn't seem to process things the same way in our marriage.
We function a lot like we paint a room. Daniel paints with the roller brush, with big, broad strokes. I (Bonnie), on the other hand, do all the detailed cut-in work. Asking Daniel to paint trim work is like sentencing him to prison (and he makes a mess). But I really enjoy it. Daniel is the visionary, artistic, more care-free type personality. Whereas, my brain is filled with checklists and blueprints for how to carry out his dreams. All of those details would clutter the big ideas that are cultivated in his. And I need tasks. Thinking that far into the future or coming up with a big idea overwhelms me.
These differences created quite a bit of conflict between us in the early years of marriage. For the life of me, I couldn't understand why he couldn't just finish one project before dreaming up a new one. And he was forever frustrated with how I always had some reason we couldn't rent the space shuttle!
The more couples we talk to, the more we understand our conflict was not unique. It's amazing how most people tend to be drawn to someone so different from themselves. They admire, even value those traits in their spouse in the beginning, but are annoyed, frustrated, and overwhelmed by those same attributes when they live with them for a while. We like to say that there is a fine line between endearing and annoying. What we find "cute and quirky" one day can make us insane the next. We tend to play jump rope back and forth across that line regularly.
If we are going to enjoy this marriage adventure over the long haul, we have to learn to embrace the things that make us unique. If we are exactly alike, there is no need for both of us. We are different by design on purpose and for a purpose. Psalm 139:12-13 says, "For you created my inmost being, you knit me together in my mother's womb. I praise you because I am fearfully and wonderfully made; your works are wonderful, I know that full well." It's important to recognize that God handcrafted each of us with individual personalities and unique strengths.
If we can embrace the things that make us different, we can learn to lean into each other and become stronger together. Just like the body is made up of different parts, serving unique purposes, we are joined together to be able to accomplish more than we could apart. If Daniel and I were just alike, I would still be living in the same little apartment we moved into when we first married because I hate change. We also probably wouldn't have a dollar in our savings account because I'm better at keeping a detailed eye on our finances. It's taken many years of jump roping between annoyance and appreciation to become better as a couple. We've become stronger because of the unique qualities and giftings we each bring to the table, not in spite of them.
Living with someone who sees black when we see white can be maddening. You will never see things from exactly the same perspective. But, if you are patient and remember how your opposite characteristics attracted you in the beginning, you will be able to turn individual weaknesses into combined strengths. What exasperates you today, just might be the thing that enchants you tomorrow!
Enjoying the Adventure,
Daniel & Bonnie