What Came Next Was a Bit of a Blur
By Bonnie Hoover
It was a beautiful, sunny afternoon, one I had been anticipating since parking my mower back in late November. The sky was clear blue, and the wind blowing through my hair was exhilarating as I whipped around cutting grass on my Zero Turn lawnmower. I smiled and actually giggled with delight to be outdoors doing one of my favorite things again. I slowed down to a crawl to carefully navigate, cutting in the space between our pump house and the RV. What came next was a bit of a blur.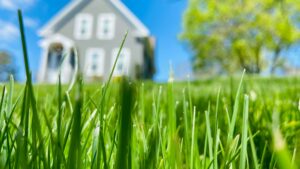 Later, I pieced together what had happened in the freak accident as I was back at home recovering with both bones in my forearm snapped clean through. The mower had slipped on wet grass and twirled me around into the side of the motorhome. My arm didn't stand a chance against the vertical awning arm attached to the side of the RV. I was thankful Daniel was home, as I fainted in his arms when he got to the top of the hill to come to answer my screams for help.
Four days post-operation to repair and upgrade me to plates and screws in my dominant right arm, I'm sitting here typing with my left hand and feeling blessed. Yes, gratefully blessed. For a week and a half now, my husband has waited on me hand and foot. He slept in a recliner for the first week, refusing to let me sleep on the couch alone. He has worked from home and gotten the kids to and from school and their activities. He has kept the house clean, helped me bathe and dress, brought me food, drink, and medicine, and driven me to my doctor's appointments and the salon to get my hair washed. I have been overwhelmed and humbled by Daniel's attentiveness and kindness. He has truly been the hands and feet of Jesus to show me his love.
It reminds me of the example Jesus set for His disciples shortly before His crucifixion as they gathered in the upper room to eat the Passover meal together (John 13:1-20). During supper, Jesus got up and took off His outer garment. He set aside His status as teacher and leader, humbled himself, becoming vulnerable enough to wash His disciples' feet. When it was Simon Peter's turn to be washed, he gave Jesus some pushback. It hurt him to see his Lord serving him in such a lowly way, and he responded by saying, "You shall never wash my feet." But Jesus told Peter, "If I do not wash you, you have no share with me."  Peter always went a bit overboard! I love his reply. "Lord, not my feet only but also my hands and my head."
Jesus explained that He was giving His beloved followers an example of how they should humbly serve one another as He had served them. This is how I have seen my husband serve me, not just after my accident but through our twenty-five years of marriage. But recently, it has been challenging to let Daniel serve me so above and beyond what I can do for him in return. I've felt a bit like proud Simon Peter, who finds it acceptable to take care of the one you love, but no way will I let him stoop to serve me! Maybe I take too much pride in and find my identity in being the one who takes care of others. But my sweet husband has continued to follow Jesus' example to continue figuratively and literally washing my feet.
If you're married long enough, undoubtedly, you will each take a turn serving and being served. The marriage relationship is the perfect safe place to learn to do both. Why? Because both require humility and vulnerability. This is my time to experience being served, which feels harder at times than serving. But I want to open my heart to learn this lesson well. I'm beyond grateful for my husband, friends, and family, who are being the hands and feet of Jesus taking care of my every need. But I hope to move on from this lesson very soon and get back to sunnier days cutting the grass!
For I have given you an example, that you also should do just as I have done to you.
-John 13:15
Learning from the Adventure,
Daniel & Bonnie