Give Away, Throw Away, and Save
By Bonnie Hoover
I was recently sorting through a bunch of old stuff, getting ready to make a move from one house to another. I am not a packrat, by any stretch of the imagination. If I haven't used something in over two years, chances are I don't need it. As I went from room to room purging and keeping, I made a quick evaluation of each item and tossed them into one of three piles- give away, throw away, and save. I was careful to preserve things I held dear but found I felt indifferent about many of my possessions. In fact, rather than bother with moving them, I found myself having this conversation in my head quite frequently. Those are a little worn and need some work. I'm not sure that is worth keeping. I may use that someday, but I'll just throw it away and get a new one later.
I guess my attitude reflects the microwave, disposable generation I live in. Gone are the days we refurbish and spruce up the old to make it new. We prefer to toss the old and trade up for a newer, shinier, seemingly easier version. Too often, though, we have that same attitude in relationships. That's the problem posed by Kevin & Marica Meyers in their new book, The Second Happy: Seven Practices to Make Your Marriage Better Than Your Honeymoon. We sat down with them on this week's podcast and talked about it.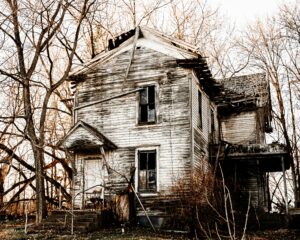 All too often, couples become dissatisfied, bored, or stuck in their marriage once the honeymoon stage has worn off and it starts to get hard. The mundane replaces the twinkle we had in our eyes for each other, so we think our relationship is broken. The "easy" wears off, and we believe it's just too much work or too hard to push through. So, we discard the relationship and begin looking for a new one. It's like living in a house for a while, finding all its faults, and rather than fix them, just sell and move to a one in a different neighborhood.
I sure am thankful Jesus didn't save me, then throw His hands up when I become obstinate or challenging to live with. I am grateful He doesn't discard me when I don't live up to certain expectations or abandon me in my valleys of unfaithfulness and fruitlessness. I'm never too much for Him, or not enough. He sees my flaws, failures, weaknesses, and outright disobedience and passionately pursues me anyway. That's one beautiful thing about Jesus. As the Carpenter, He specializes in renovations. He moves into worn-out, broken-down people all the time and works from the inside to renew, refresh, rebuild, and repurpose us, making us fit for a relationship with Him.
2 Corinthians 5:17 says, "Therefore, if anyone is in Christ, the new creation has come: The old has gone, the new is here!"
What if we could see our spouse in the same way Jesus sees us? What if we could look at each other with all of our past disappointments and failures and begin to renovate our relationship, room by room? Rather than expending time and energy putting the house on the market and looking for a new one, what if we rolled up our sleeves and got to work on this one? What if we could look at all our junk and put it in give-away and save piles? We could make a conscious effort to throw away the resentment, blame, and pain. We could give away the stuff we don't know what to do with and let Jesus sort it out. And we could find a way to save and reclaim the best things, the things we loved most about each other in the beginning. I guess you could call that finding your "Second Happy."
We were blessed by our time with Kevin and Marcia Meyers and the seven practices they shared in their book. We pray you will listen to the podcast and read the incredible resource they have written for you from their hearts after close to forty years of marriage.
Working on the Adventure,
Daniel & Bonnie