A few weeks ago, Bonnie & I had the opportunity to spend some time with New York Yankee's great Brian Doyle and his wife, Connie. Primarily, we were there to interview them for our podcast. It was apparent that God had much more of a blessing in store for our family. Typically, we record the podcast when the kids are at school; however, we decided to get them out of school early to go with us. How often does a baseball-loving 9-year-old get to meet a world champion Yankee?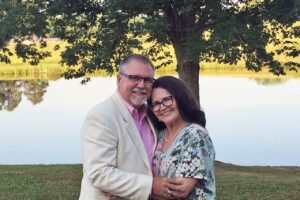 When we arrived at their home, the Doyles welcomed us inside. Promptly, Brian took Colby to the best room in the house, his New York Yankees memorabilia room. This baseball haven contained everything from autographed balls, pictures, bats to a World Series Trophy. Colby was in heaven. We spent hours chatting and getting to know one another. Our conversation continued through dinner that evening and on into the night. I don't think we left their house until almost midnight.
As a Christian, there are those times when your heart finds kinship with one another, and you feel like you've known each other forever. The next morning I woke up thinking, "what a special day that was."
As I look back on that day, there are many things that I have taken away from our conversations. But, two things stand out in my mind. These two things are trust and persistence. Through Major League baseball, a terminal cancer diagnosis, and now Parkinson's disease, among other things, Brian and Connie have learned to trust in the Lord.
Trusting in God isn't a one-time action. It's a process over time. After we are saved, God takes us through a process called sanctification. Sanctification is a life-long process of spiritually maturing. Through this process, we have the opportunity to learn to trust the Lord. The other day, I heard a pastor say, "temptation comes from the enemy, but trials come from the Lord." Trials are one of the ways that our trust in God is built. When we learn to trust Him, then we can begin to live in dependence on Him.
As our conversation with Brian and Connie evolved, I began to notice a progression. The more they walked with God, the more trials they faced. As they met more difficulties, the more they trusted. The more they trusted, the more persistent they were. I began to realize that I was sitting with a couple in their 60s that had been married for 47 years, and they aren't slowing down! Most couples at this stage in life are relaxing into retirement. However, the Doyles aren't. Throughout life, every brick wall they encountered, they found a way over. Due to Parkinson's disease, Brian had to stop traveling as a missionary with Global Sports. No problem. He decides that he'll be the staff writer, and Connie will run the administrative responsibilities.  
I believe this persistence is summed up best in the title of their recent book release. The book is entitled, The Call: The Desire to Finish Strong. Through the trust that they've developed in Christ, they have learned to rely on Him. When you develop this kind of trust and dependence on Christ, there's nothing that can stop you. That's how you gain persistence. You can be persistent in anything because with Christ; nothing can stop you!
As Bonnie and I walk this Marriage Adventure together, I pray that we can mature into this kind of trust and persistence. No, I'm not asking for the trials; that would be crazy. But I pray that we will always hear the voice of the Lord and run through any wall that comes our way.
Listen to our interview with Brian and Connie Doyle here. I know you'll be encouraged, as we were!
Encouraged on the Adventure,
Daniel & Bonnie